Product Description
This Cup magnet is composed of steel cup and neodymium countersunk magnet.The use of cup magnet is very simple, just fix the cup magnet to place with a threaded screw. Cup magnet will be the best solution for holding signs and lights,retaining tools and objects.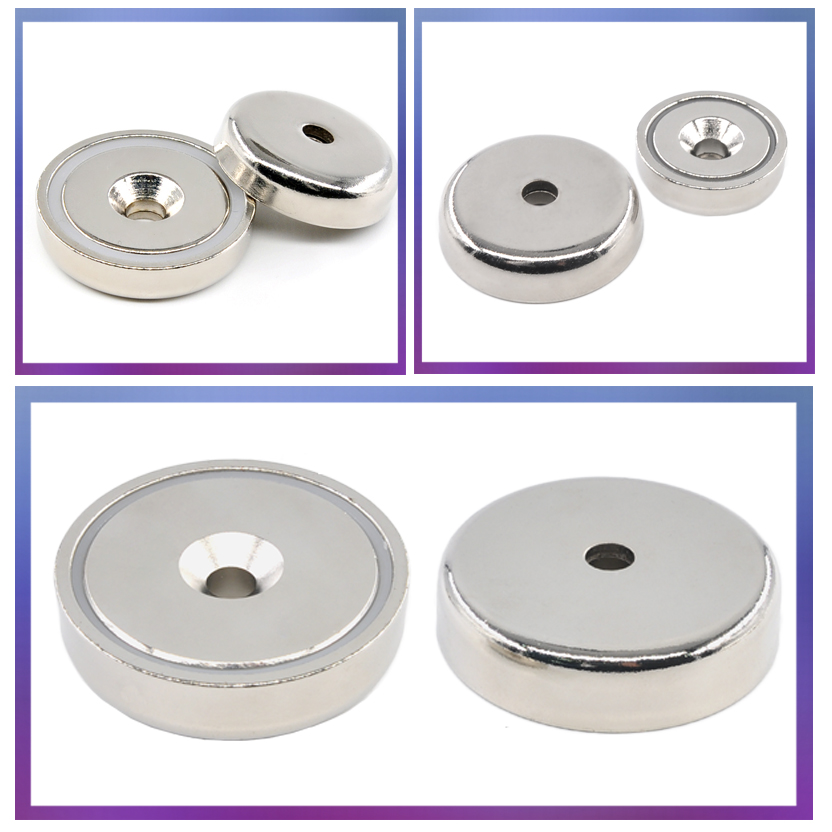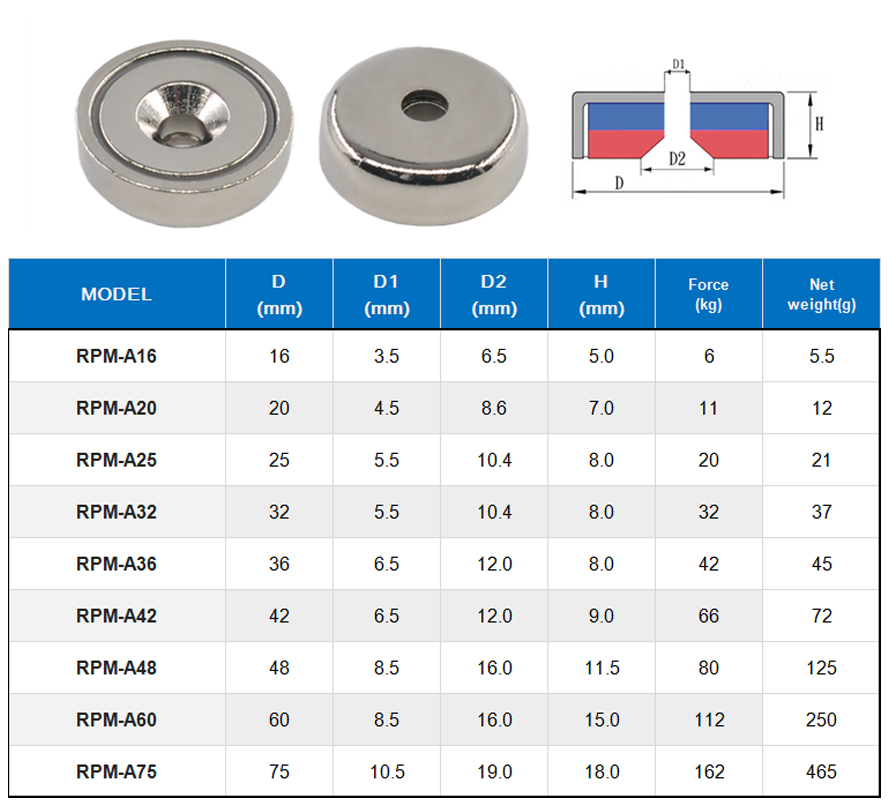 Advantages
1 All NdFeB magnets used are made by our own magnet factory.
2 Standard producing process and strict quality checking
3 Competitive price, stable quality, in time response
4 Trained working staff

Delivery & Packing:
Popular Model: 5-10 days after receipt of payment
Customer Tailored Size: 15-20days
Packing: Plywood Box.

Detailed specifications:
1.Material: NdFeB magnets + Metal House (well surface treatment from corrosion

2.Glue: Loctite. The gluing of magnet and steel cup could be well guaranteed.

3.Size: As per the table. Customer tailored design are available.
4.Coating: As Per customers requirement.
5.Certificates: ISO9001:2000,ROHS
We could produce round base pot magnets in variety of sizes, Usually, our delivery is about 20 days, but we also have stock for some models of round base pot magnet.round base pot magnet are magnetic round base that made of N35 magnet, steel and ABS rubber gasket. The steel shell of the pot magnet could concentrate the magnetic force at the magnet one side. The steel shell also could protect magnet because neodymium magnet is fragile and easy broken. The steel shell and the gasket will prevent magnet of corrosion.After make holes on a wood, wall, plastic, metal sheet,someone could fix the round base pot magnet with an thread nail. Countersunk pot magnet could hold any ferromagnetic things.
Magnetic round base are made of iron cup with counter sunk hole and strong permanent neodymium magnet ring. Appearence of the round base pot magnet is coated with bright nickel,which will offer good resistance to the corrosion. They have strong magnetic force and be used to holding ferromagnetic object From weight 4 to 160kg.Size of the round magnets are from diameter 16 - 75 mm.

Neodymium Pot Magnet
Round base with countersunk hole
Coating NiCuCi/Zinc
Magnet Grade N35
Delivery: 5~15 days
MODEL
D
(mm)
D1
(mm)
D2
(mm)
H
(mm)
Thickness
of iron (mm)
Force
(kg)
Net
weight(g)
RPM-A16
16
3.5
6.5
5.0
1.5
6
5.5
RPM-A20
20
4.5
8.6
7.0
1.5
11
12
RPM-A25
25
5.5
10.4
8.0
2.0
20
21
RPM-A32
32
5.5
10.4
8.0
2.5
32
37
RPM-A36
36
6.5
12.0
8.0
2.0
42
45
RPM-A42
42
6.5
12.0
9.0
3.0
66
72
RPM-A48
48
8.5
16.0
11.5
3.0
80
125
RPM-A60
60
8.5
16.0
15.0
3.0
112
250
RPM-A75
75
10.5
19.0
18.0
3.0
162
465